Absolute Medical Clinic is now Absolute Injury and Pain Physicians!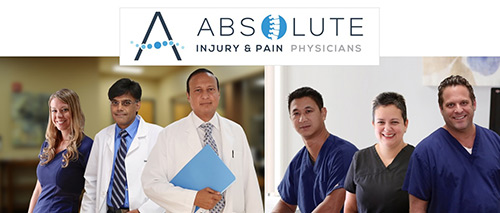 Absolute Medical Clinic has changed the face of auto injury care and pain management by launching a complete re-brand. As of March 1, 2017, Absolute Medical Clinic will be known as Absolute Injury and Pain Physicians—with a trendy new website—reflecting the institution's growth into one of the most trust-worthy chiropractic and pain management clinics in the industry. With seven clinics established across Jacksonville, Fernandina Beach, and St. Augustine Florida, the re-brand improves not only the face, but the quality of patient care.
Long time industry leader, Dr. Vipul Patel, CEO of Absolute injury and Pain Physicians says, "We pride ourselves in our integrity and providing honest quality care. It was time that the face of our brand matched the quality service we provide. I started this company as a family run business 13 years ago. In that time the industry has changed, and so have we."
Inundated with advertisements and jingles on TV, radio and everything in between, it's no secret that the Jacksonville auto injury care industry is very competitive. In a market that is over-saturated with 800 numbers and cheesy ads, Absolute's new brand offers a fresh alternative focusing on quality patient care. "The market has changed and the general public has become very savvy. Our company is a safe haven for actual relief when dealing with injury and pain. It's what this industry needs and most importantly what patients need. We are so excited for this upcoming year," states Hali Avener, Director of Marketing.
A staple in the industry, Absolute is only gaining momentum and improving on an already established, reputable brand.
Absolute Injury and Pain Physicians offers chiropractic, pain management, and physical therapy services. Their mission is to partner with their patients in their personal health goals of an active, pain-free lifestyle by providing advance patient care and education. Absolute Injury and Pain Physicians is located in the following areas: Arlington: 6947 Merrill Road Jacksonville, FL 32277; Southside: 8081 Philips Hwy Suite #17 Jacksonville, FL 32256; Northside: 2160 Dunn Avenue Jacksonville, FL 32218; Westside: 5913-13 Normandy Blvd Jacksonville, FL 32205; Jax Beach: 630 Jacksonville Dr Jacksonville, FL 32250; St. Augustine: 665 SR 207 Jacksonville, FL 32286; Fernandina: 1940 S. 14th Street Fernandina Beach, FL 32034.