by Luz Senan, D.C.
Growing up, I would hear an older relative complaining of aches and pains that seem to get worse in the colder seasons, "This cold weather is making my back hurt more."
Other times, they would even try to predict the weather by saying things like " My knee/back is hurting it's probably going to rain."
Although there's not a clear correlation between colder temperatures and an increase in the pain level it has been suggested that atmospheric and temperature fluctuations can exacerbate certain chronic joint conditions.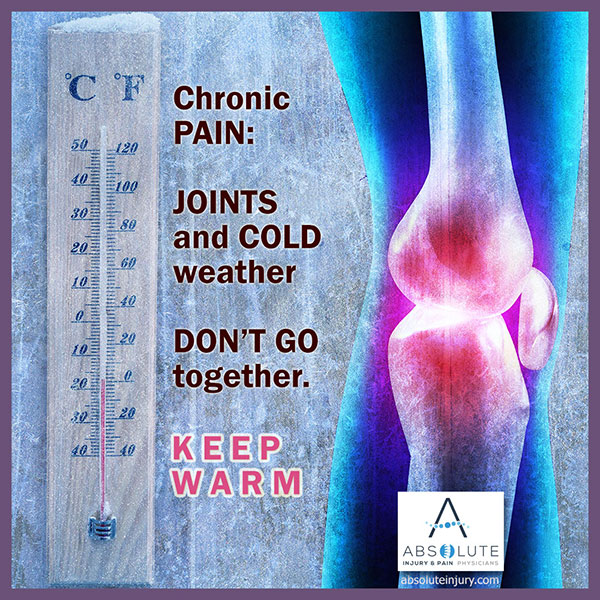 Very frequently in practice, I get the same complaints over and over again. Especially in this cold season, I definitely notice an increase in chronic pain level and stiffness as the weather changes; so there surely has to be a relationship between changes in temperature and pain, and certain validity to the claims.
Harvard Medical School professor and  researcher Robert Newlin Jamison studied the weather's effects on chronic pain patients in the four cities of San Diego, Nashville, Boston, and Worcester; and published his findings in the journal Pain. Among all people interviewed about their chronic pain, Dr. Jamison says, "Two-thirds said they were pretty sure that weather seems to affect their pain. Most of them reported that they could actually feel the changes even before the weather changed. In other words, they could feel some increased pain the day before the storm comes."1
In another study published in the Journal of Rheumatology in 2015, out of 810 participants with osteoarthritis (OA) in the knee, hand, and/or hip, a significant relationship was found between daily average humidity and temperature on joint pain. The effect of humidity on pain was stronger in relatively cold weather conditions.2
If the cold weather seems to increase your pain level, you can limit your exposure to cold and you can create your own heat by incorporating some type of heat therapy into your daily routine. Heat therapy decreases stiffness and promotes healing through increased circulation.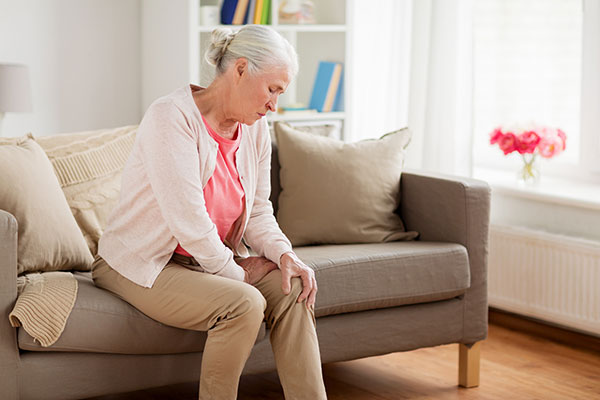 Here are a few ideas:
• Apply a hot pack, warm towel, or heating pad to the painful areas. By doing this for up to 20 minutes at a time you may achieve some temporary pain relief. Do not exceed the recommended amount of time or sleep with a hot pad since it could cause burns.
• Use over-the-counter heat wraps like Thermacare. Available in most grocery stores and pharmacies, they can provide warmth for joint-related back pain and other symptoms for several hours at a time.
• Warm Water therapy. By swimming in a heated indoor pool a few times per week, or soaking on a whirlpool or hot bath you can help to alleviate your symptoms and increase joint mobility.
• Increase Activity Level. Keep moving. It can be tempting to hibernate during cold weather, but inactivity can increase some types of pain. You can stay inside and exercise on a treadmill or stationary bike so you can walk/pedal while you watch TV or a movie.
• Keep Cozy. One of the best ways to retain heat is to keep cozy with appropriate warm clothes. Wearing loose-fitting but heavy, heat-trapping garments can act as a personal temperature regulator. Wearing multiple layers such as scarves, beanies, sweaters, gloves, and socks allows you to change your immediate temperature without having to use the thermostat or sit under a mountain of blankets.
Footnotes:
1  Kam, Katherine (2012), Does Weather Affect Joint Pain? How the weather can affect joint pain, and what to do about it (WebMD)
2  E.J. Timmermans, L.A. Schaap, F. Herbolsheimer, EPOSA Research Group, et al.,  The Influence of Weather Conditions on Joint Pain in Older People with Osteoarthritis: Results from the European Project on OsteoArthritis. (Journal of Rheumatology. 2015 Oct; 42(10):1885-92)