Happy Thanksgiving from all of us at Absolute Injury and Pain Physicians!
by Luz Senan, D.C.
Thanksgiving Day is a national holiday that began as a day of giving thanks for the blessing of the harvest and of the preceding year. Celebrated on the fourth Thursday of November in the United States, Thanksgiving has similar-named festival holidays in Germany and Japan. Thanksgiving has historical roots in religious and cultural traditions; it has long been celebrated as a secular holiday as well. Thanksgiving's true meaning goes way beyond feasting on a turkey meal—it's an opportunity to look for reasons to appreciate and bond with our loved ones, to reflect on our blessings, and be thankful for many reasons.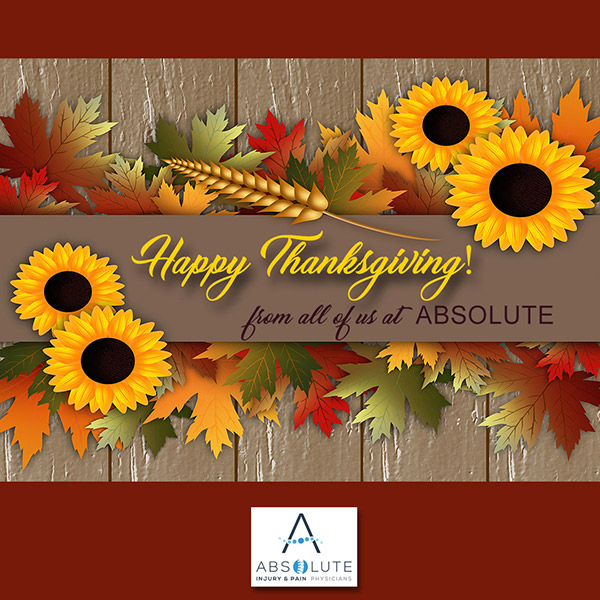 On a personal note, I would like to take this opportunity to reflect on my almost 12 years of working for Absolute Injury and Pain Physicians. First of all, I would like to thank our mentor and founder Dr. Vipul Patel, who had the vision to purchase a small practice in Arlington and turn it into a multi-disciplinary clinic with multiple locations. I would like to thank him again for trusting us to continue his vision and provide care to our patients following the core values of the company he founded over 15 years ago. I also would like to thank all of our loyal employees—the ones who each day do their best to take care of our patients' needs either face-to-face in the offices or behind the scenes as administrative personnel. Their dedication and unconditional support are truly appreciated.
In addition, I give most sincere thanks to all our colleagues who trust us to provide care for their patients and clients. We strive to provide the best care possible and value the relationships that we have built through the years.
And last but not least, I would like to give thanks to the thousands of patients that we have helped since we opened. We are aware that there are many other providers and facilities out there, yet you have chosen us to care for you. We have been blessed through the years to experience treating returning patients, their family members and friends. We value your patronage and appreciate your confidence in us.
Thanksgiving by Edgar Albert Guest
Gettin' together to smile an' rejoice,
An' eatin' an' laughin' with folks of your choice;
An' kissin' the girls an' declarin' that they
Are growin' more beautiful day after day;
Chattin' an' braggin' a bit with the men,
Buildin' the old family circle again;
Livin' the wholesome an' old-fashioned cheer,
Just for a while at the end of the year.
Greetings fly fast as we crowd through the door
And under the old roof we gather once more
Just as we did when the youngsters were small;
Mother's a little bit grayer, that's all.
Father's a little bit older, but still
Ready to romp an' to laugh with a will.
Here we are back at the table again
Tellin' our stories as women an' men.
Bowed are our heads for a moment in prayer;
Oh, but we're grateful an' glad to be there.
Home from the east land an' home from the west,
Home with the folks that are dearest an' best.
Out of the sham of the cities afar
We've come for a time to be just what we are.
Here we can talk of ourselves an' be frank,
Forgettin' position an' station an' rank.
Give me the end of the year an' its fun
When most of the plannin' an' toilin' is done;
Bring all the wanderers home to the nest,
Let me sit down with the ones I love best,
Hear the old voices still ringin' with song,
See the old faces unblemished by wrong,
See the old table with all of its chairs
An' I'll put soul in my Thanksgivin' prayers.
On behalf of the Absolute Injury and Pain Physicians team, we thank you, and Happy Thanksgiving!