If you have no health insurance, you are not alone.
by Cecilia (Geej) Williams
Yes, it is that time of the year when we have to worry about our health insurance.  Were you planning to stay with your current health insurance plan? Have you visited healthcare.gov and chosen your options yet? Or you have no health insurance and are you planning to get one—finally? Or, wait a minute, you have no health insurance and are not planning to have one at all!
If you have no health insurance, you are not alone.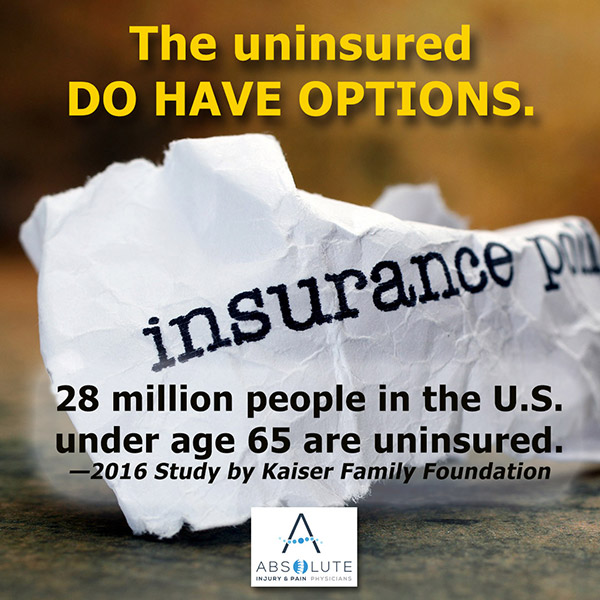 NUMBER OF PEOPLE LIVING IN THE U.S. WHO HAVE NO HEALTH INSURANCE
In statistical studies conducted by the Kaiser Family Foundation [1], by end of 2016 about 28 million people under age 65  living in the U.S., or roughly 10% of the population in that age level are uninsured.
According to the study, below are the percentage categories of people that are uninsured:
6.4 million – Eligible for Medicaid or other public healthcare program but did not pursue it
5.4 million – Undocumented immigrants
5.3 million – Eligible for ACA/Obamacare tax credits but did not enroll in the program
4.5 million – Declined employer's insurance offer (but are therefore ineligible for Obamacare)
3.0 million – Ineligible for financial assistance under ACA/Obamacare due to sufficiently high income
2.6 million – Income was above the Medicaid eligibility limit but below the threshold for subsidies on the ACA exchanges (44% to 100% of the federal poverty level or FPL)
TYPES OF PEOPLE THAT ARE UNINSURED [2]
According to the same study, 80% of the uninsured were low-income families below 400% of poverty rate.
Forty-four percent (44%) of the uninsured are non-Hispanic White (16.6 million), 33% are Hispanic (8.9 million), 15% are Black (4 million), and 5% are Asian/Hawaiian/Pacific Islander (1.36 million).
If you and your children are part of the statistics above, this article is for you.
The primary reason why people do not subscribe to health insurance plans is because health insurance is simply unaffordable.  Even with Obamacare, which has helped democratize the health care system and allowed for more people to be insured, statistics show that a large percentage of the population still cannot afford health care, and those who have health plans have very high deductibles.
Many of us who cannot afford the monthly payments for a health insurance have somehow survived the many years without having one.  Many of us got lucky.  But we never know when our luck runs out.  So it is very important to always stay on the defensive—health-wise—and prepare for an eventuality—money-wise.
OPTIONS FOR THE UNINSURED
You do have a variety of options to help your uninsured status.  Let's discuss them one by one:
1.  Negotiate
It is important to be forthright about your financial status.  Ask the health care provider if they will give you a discount because of your limited income.  Many health providers welcome low income patients as long as proof of low income is shown, and you will sign the necessary paperwork.  Sometimes, instead of a discount, you will be given a payment plan.  Take this option; let them know how much you can afford to pay every month, and keep to your promise of paying.  Also let them know if you can't help but miss a payment.  For as long as you show truthfulness, willingness, and integrity to make your payments, everything will be fine.  But do not let months pass before you express your intention to pay.  You can be sent to a debt collector agency in just 30 days.
2. Go to Government Clinics, Urgent Care Clinics, Non-Profit Hospitals, and/or Primary Care or Dental Clinics with Membership Benefits
A lot of preventative, immunization, basic treatment, maternity and/or basic medical consultation services are available for free or for a small fee in government-funded clinics.  Ask around, search the internet for your nearest government-funded clinic.  You may also find a health center in your area here.
Most urgent care clinics will offer discounts to cash-paying patients. They also have family packages, and payment plans.
"Non-profit hospitals must provide you with emergency medical care regardless of your ability to pay.[3] "  Precisely because of the nature of their organization, they are "able to write off a certain portion of your bill and/or help you set up low payment plans if you are able to provide them with proof of your income.[4]"
Some Primary Care and Dental clinics have membership subscriptions where you pay a small monthly flat fee in exchange for unlimited preventative, primary care, and dental services.  Membership may also come in the form of medical/dental card discounts instead of unlimited services. See if any of the primary care clinics near you provide these benefits.
3. Check if you're eligible for Medicare
Remember that when you're age 65 and over, you can be eligible for Medicare.  If you and/or your spouse have worked for at least 10 years and have been paying Medicare taxes, then you certainly are eligible!  So watch that year when you turn 65!  If you have not been paying Medicare taxes, start now!  It's only a few dollars off your wages.  And if you're not sure about your eligibility, check out this website.
4. Check if you're eligible for Medicaid
Medicaid is a government-funded health program for people with low-income. Eligibility varies from state to state, so check your local Federal or State health center.  And Medicaid coverage can be retroactive up to three months, if it is applicable to your status.   Here is the goto place for Medicaid info.
5. Do not forget the children!
The Children's Health Insurance Program, more popularly known as CHIP, is the Medicaid counterpart for kids.  Again, eligibility varies from state to state but have higher income guidelines. Check the CHIP out here and here.
6. Buy a Short-term Health Insurance Plan
If you're traveling, or suddenly have a (not yet regular) job where you think a health insurance plan will really come in handy, you might want to consider buying a short-term health policy.  Short-term health insurance plans run as short as one month.  This is also especially helpful to cover the gaps between health insurance plans acquired from jobs, and when COBRA rates (usually) end up un-affordable.  COBRA (Consolidated Omnibus Budget Reconciliation Act) allows the "continuation of group health coverage that otherwise might be terminated.[5]"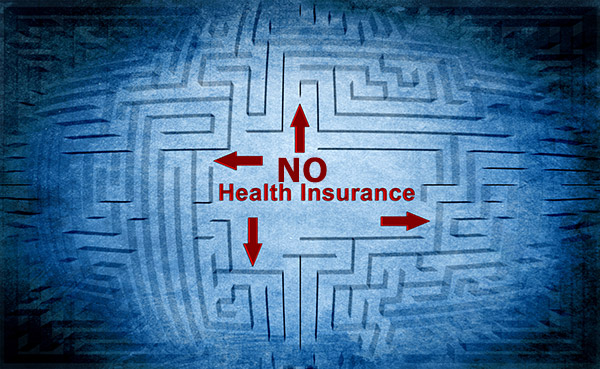 7. Check your Employment's Workers Comp
If you've been hurt at work, check if you have Workers Comp.  A lot of companies do.  Ask your Human Resources department.  Workers Comp helps pay for medical consultation and treatment when you're injured at work or acquire an occupational illness.  Check this page for more info on Workers Comp.
8. Open a Health Savings Account
A Health Savings Account (HSA( is just like a bank account.  You deposit X amount of money into a bank health savings account as often as you are able to.  But you are only able to withdraw it if it goes towards the payment of a qualified medical expense.  They can also be used to pay for your deductibles, and thus are always paired with a low-cost, low-premium health insurance plan.  The wonderful thing about an HSA, is that the funds roll over.  If you didn't get to spend them this year, they're just in the bank waiting, being rolled over year after year, and growing.  Another kind of HSA is the 401k type where the money can be invested and so will grow exponentially as long as you stay healthy and you don't use it!  Even better, your HSA contributions are tax-deductible or pre-tax (if through payroll deduction).  More and more individuals are taking to HSAs as the prime alternative to health insurance plans.  Many of the local banks provide HSA account services Learn more about HSAs here and here.
9.  Check out your local dentistry and medical schools
Schools often provide free health services as part of their students' trainings. Check your local schools and see what they have to offer.
10. Ask for free samples or check out those generic drug programs
Doctors will always have samples of prescription drugs.  Ask for samples to start you off.  Then check out the pharmacies at Target, Walmart, CVS, and Walgreens, etc. for their generic drug programs or prescription discounts. Always ASK before you pay.  You never know what kind of discounts or programs or samples are in the offing.  Search online for free or discounted prescription drugs.
11. Combine a high-deductible policy with an accident and/or disability policy
Especially for the young: if you are generally healthy, live a healthy lifestyle, and you think the chances of you needing medical treatment are very slim, then get a high deductible policy.  Then combine it with an accident and/or disability policy for an additional $30-40 a month.  The accident policy would cover the only likelihood (you think) that you may end up needing medical treatment for—an accident—which we constantly face everyday as we commute from our homes to our workplace and back.  What's more, the accident policy always comes with a life insurance.  The disability insurance policy helps with your lost income while still in treatment, and also helps with paying for your health care.  It's a perfect combination.
12. Join a Medi-Share community
Primarily a Christian endeavor, Medi-Share is a system whereby Christians  share a monthly contribution to the community, and use this accumulated contribution to pay for a member's eligible medical bills.  What's great about this system is that all members who subscribe are exempted from the taxes and penalties associated with not having a health insurance.  Here is an example of a Medi-Share system, explained thoroughly by Christian Care Ministry.
13. Stay healthy
This is the best health insurance plan—stay healthy. Read up on all the simple health exercises that you can do, and the simple healthy foods that you can eat.  I have been told once by a woman suffering from obesity that she became the way she was because they were poor—all they could afford to eat was corn chips and fast food! I can never understand this, of course, because you can buy vegetables for less than a dollar, while a bag of chips costs at least $3 and a small burger costs at least $2. Check out this article by our chiropractor, Dr. Deric D'Agostino, on his view of a healthy diet.
FOOTNOES
1 "Health insurance coverage in the United States," Wikipedia, accessed 11/27/2017
2 "Key Facts about the Uninsured Population," The Henry J. Kaiser Foundation, accessed 11/27/2017
3 "No Health Insurance? There is Help and Hope!" Your Healthcare Information Guide, accessed 11/27/2017
4 "No Health Insurance? There is Help and Hope!" Your Healthcare Information Guide, accessed 11/27/2017
5 "Employee Benefits Security Administration: COBRA Continuation Health Coverage FAQs," United States Department of Labor, accessed 11/27/2017
REFERENCES
"5 Alternatives to Traditional Health Insurance By J.B. Maverick," Investopedia, accessed 11/27/2017
"6 Ways to Pay Medical Bills With No Health Insurance" By Miriam Caldwell, The Balance, accessed 11/27/2017
"7 Ways To Stay Healthy Without Health Insurance," Blackdoctor.org, accessed 11/27/2017
"Employee Benefits Security Administration: COBRA Continuation Health Coverage FAQs," United States Department of Labor, accessed 11/27/2017
"Health insurance coverage in the United States," Wikipedia, accessed 11/27/2017
"Medicare and CHIP Coverage," Healthcare.gov, accessed 11/27/2017
"No Health Insurance? There is Help and Hope!" Your Healthcare Information Guide, accessed 11/27/2017
"Options for People With No Health Insurance" by Shelley Frost, Livestrong.com, accessed 11/27/2017
"Quick Facts: United States," United States Census Bureau, accessed 11/27/2017
"Who is Eligible for Medicare?" U.S. Department of Health and Human Services, accessed 11/27/2017